How To Decorate Your Home To Sell – Griggs Homes
How To Decorate Your Home To Sell
Decorating your home to sell can help increase the value of your home and reduce the amount of time it spends on the market.



Why Decorate to Sell?
Decorating to sell, also known as home staging, is a hugely important process when looking to sell your home. The process helps sellers maximise their selling possibilities to reduce the time the property sits on the market and hopefully increase the selling price.
Although decorating to sell could be an investment in the short-term, there are cheap and quick fixes that can be made which, in the long-run, can make a huge financial difference.
When undertaking a home staging, you are creating a blank canvas for potential buyers and helping them picture a life in that home. Thus, anything that improves the overall ambiance of the home, can work in the seller's favour.
Additionally, the more ready the house looks, the better this will be for your prospects. If prospective buyers see that they will need to invest in the house, be it for decoration or anything structural, they will be more inclined to try and negotiate their offering price.
For interior design expertise and luxury house builders, GRIGGS Homes is here to help - simply get in touch by email on info@griggshomes.co.uk or call 01923 852 322.
How Decorating To Sell Affects Sale Price and Time on Market
Recent statistics from the National Association of Realtors suggests that home staging can increase the offer price by between 1% and 5% - sell our list of things that can increase your home's value.
Home staging is actively encouraged by agents, with 83% of buyers' agents saying that this process helps prospective buyers visualise the property as their future home, thus reducing the time on the market.
First Impressions Count
The first thing that prospective buyers will see is the entrance to your house; remember that the viewing begins before they even step inside. This is why it is important to prepare the outside of your house as well as the inside.
Make sure that your porch or entrance area is looking presentable and that it creates a good first impression - this may include cleaning any windows, refreshing paint and even adding something decorative such as a plant or a wreath. See our top tips to sell your home.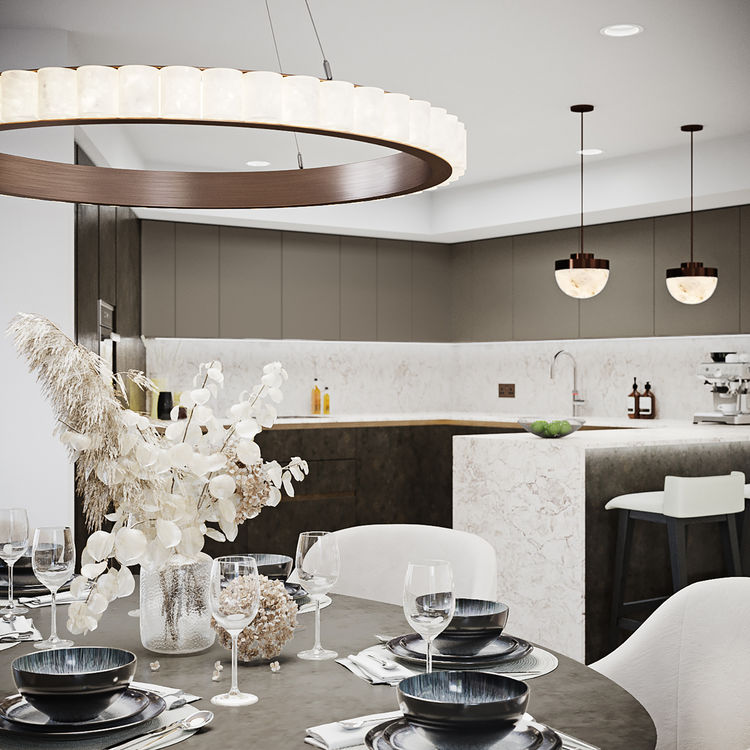 Adding excellent decor to your home can increases its value by up to 5% and increase its chances of being sold promptly. Consider decluttering your space, adding accessories and more neutral colours.
Declutter Your Space
Not only is this step crucial before showing prospective buyers your home, but it is sure to save you a lot of trouble and stress upon moving to your new home.
This simple step can make a huge difference before showing your home. Keeping your home clutter-free will help people see your home for what it is so that they can imagine their lives there.
Freeing your home from any ornamental clutter such as objet d'art, cushions or other decorations will help the home feel more spacious.
Decluttering your home also extends to the garden, ensuring that it is neat, tidy and free of unsightly weeds.
Deep Clean
Before showing your home to prospective buyers, you must ensure that your home is as clean as possible. Something as simple as dirt, grime or a bad smell could kill possible interest in buying your space.
Make sure your home is well dusted and vacuumed before any viewings and make sure that surfaces are gleaming in the kitchen and bathroom.
Look out for problem areas such as bathtubs and kitchen and bathroom tiles where grime can easily build up. Try and scrape out and re-grout any areas with mouldy buildup or mildew.
Ensure that your house smells clean as well as looking clean using air freshener, diffusers or candles.
Use a Neutral Colour Base
A colour scheme can make or break your house so it is important to choose something that can cater to all tastes.
While you were living there, perhaps you had a bold colour scheme with bright walls or certain patterns. This may not be to everyone's taste.
A neutral colour palette means that prospective buyers can easily see how they would decorate the space and make it a home.
Colours such as whites and creams will create an air of spaciousness and garner interest from potential buyers.
Adopting a neutral colour scheme can also help to depersonalise your space. This, coupled with removing any personal or sentimental items such as family photos or toys, will help prospective buyers envision themselves in the home.
Create Space
If your space is on the smaller side, you can work to create the illusion of bigger space. For example, connecting smaller adjacent rooms by using similar colour or decor will help to open up the space.
This can also be helped by how you choose to arrange any furniture. Experts suggest placing furniture away from the walls to create walking space behind. Directing furniture pieces to face each other will make a "conversation area".
In the kitchen, it is easy to create space just by clearing surfaces of any appliances, ornaments or other clutter and re-organising any open shelving to give a cleaner look.
Accessorise Your Home
Choosing the right items to accessorise a room can make a huge difference to the overall impact of your home. There is no need to go mad with this as, of course, an uncluttered space is key. However, certain touches can help to entice new buyers.
Having fresh flowers or plants in the home can make the space look more appealing. Also, carefully chosen ornaments can create an air of elegance and luxury and upgrade your space.
Finally, lights and lamps can help create a certain ambiance in the room and maximise any existing natural light.