News – Griggs Homes
Griggs Homes helps Shenley Parish Council launch 'Little Shenley Library'
September 2019: A disused telephone box on London Road in Shenley, Hertfordshire, which has been transformed into a mini community library, was officially opened on Wednesday 25th September.

Radlett based housebuilder, Griggs Homes helped Shenley Parish Council to convert the former telephone kiosk into 'Little Shenley Library' which is accessible to villagers of all ages.
Ross Griggs, Director of Grigg Homes comments, "As a local company we are proud to be able to support the local community and are delighted to have been involved in such an innovative project in Shenley. Cllr Natalie Susman and Suzanne Raggett played a pivotal role in the creation of the new library and I know it will be enjoyed by many for years to come."
Little Shenley library, which is situated opposite the village hall in Shenley, is already full of a variety of books for people of all ages to help themselves to and enjoy.
Hertsmere Borough Councillor Natalie Susman said, "We have had a great response from many people, and it is wonderful to see people of all ages already using it. The idea of the library is that if you see a book that you fancy, you are welcome to take it, but it should be replaced with another one so that the library is always full.
"If anyone would like to donate any books to stop it getting empty you can drop them into Shenley Estates (next to Tesco). Every book donated will be going to good use and if it is not used for the library it will go to a charity which supports young people with learning difficulties."
Griggs Homes has an enviable reputation for delivering the highest quality homes in the northern home counties. It will shortly be launching Meadow View, an elegant development of just two, stylish three bedroom semi-detached homes and one luxury four bedroom home. Set in a private close surrounded by mature trees, each property has uninterrupted views to the east over fields and parklands.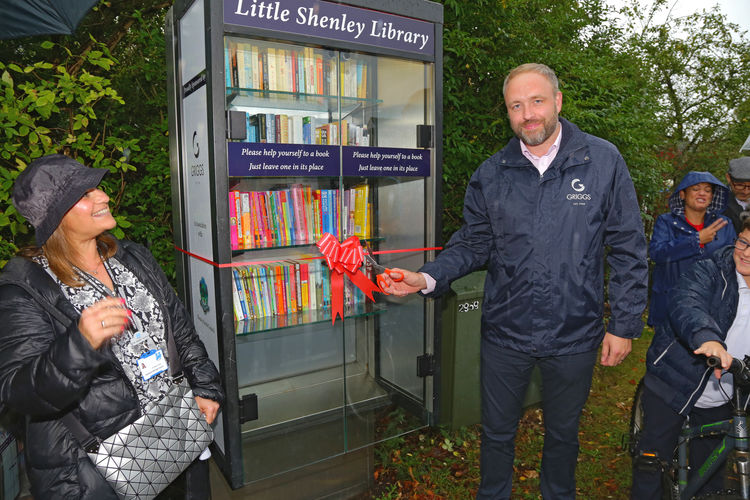 Tweaking the traditions this Christmas
December 2019 : One of the best things about Christmas is anticipation. Decking the halls, not to mention every other room in the house, is a very important part of it. It's time to draw the curtains, light the fire, and pique the senses with wintery scents like pine, cinnamon, orange and spice. And of course, put up The Tree – surely the unmistakable sign that the season of magic, goodwill and cosiness is really here.
There's nothing more traditional than Christmas, but like everything else, it has fashions and trends too. Sarah Pitts heads up Griggs by Design, the interior design service offered by luxury homes developer Griggs Homes, and has some inspiring ideas for Christmas décor 2019-style.
"While red, green and gold will always say Christmas, this year's hot trend colours are midnight blue and burnt orange tones. When you're dressing the tree, it's best to start with the large size feature decorations, spacing them evenly through the branches. When you've got those in place, fill the gaps with smaller baubles to balance out the overall look."
For those who want to go all out to Christmas-ify the whole house, Sarah recommends starting with the front door and hall, looking at it almost as if you are visiting your own house. "Take note of the places that catch the eye first. That's where you should place your best and most spectacular decorations. And if you're going for ribbons on your door wreath, garlands, tree and other spots around the house, choose co-ordinating tones and if you can, buy wide ribbons for a lavish impression. It's a way of creating an extravagant effect without spending a fortune."
So why not give Sarah's tips a try this year? And if you are considering a new interiors project for 2020 then Sarah and the team at Griggs Homes, could help. They offer a whole-house design service for both newly built homes and those who want to create a new interior scheme for their existing home. The company, based in Radlett, has an enviable reputation for exclusivity and lasting quality.