Top Tips on How to Sell Your House in 2021 – Griggs Homes
Top Tips on How to Sell Your House in 2021
Selling your house can be a nerve-racking experience. From finding the right estate agent to making your home attractive for potential buyers, there's a whole host of different things you need to consider.
However, while there's a lot of energy that goes into selling your house, it can also be an incredibly exciting time, potentially helping you fund a new move to a new place, or any number of other large and promising purchases.
For those in need of advice and guidance on how to sell their house, here we list some top tips in helping you do just that.
Tip 1 – Pick the Right Estate Agent
Selling your house is stressful, there's no way around that. However, picking an estate agent can go a long way, helping you to reduce this stress whilst maximising results.
In order to help make the process of selling as smooth as possible, you'll need an agent with fantastic marketing techniques, who really knows their stuff and can pull in a lot of viewings.
It's also important to try and get a talented agent like this at the best possible price. Estate agents will charge fees typically one of two ways – this either being a flat fee or a percentage of the sale price.
Whilst searching for local agents online, it's best to look for recommendations and any reviews they've received, helping you to avoid any poor-quality services.
Tip 2 – Give the Right First Impression
When looking for a new home, potential buyers will want a good first impression, and can be put off a property when they don't get it. Therefore, it's really important that your house has an attractive outward appearance.
When potential buyers walk up to your door, you want them to be impressed with what they've already seen, and be excited to see what's inside. However, if your front garden is messy or your doors and windows are looking a little worn, this can create an unpleasant and lasting first impression.
Before having potential buyers over to view the house, it can help to mow the grass, clear the front garden of any rubbish and potentially pot a few plants to help spruce the place up.
Additionally, giving doors and windows a fresh lick of paint can go a long way in brightening the house up. It's also useful to have the doors and windows colour coordinated, avoiding unpleasant clashes that can be off-putting to viewers.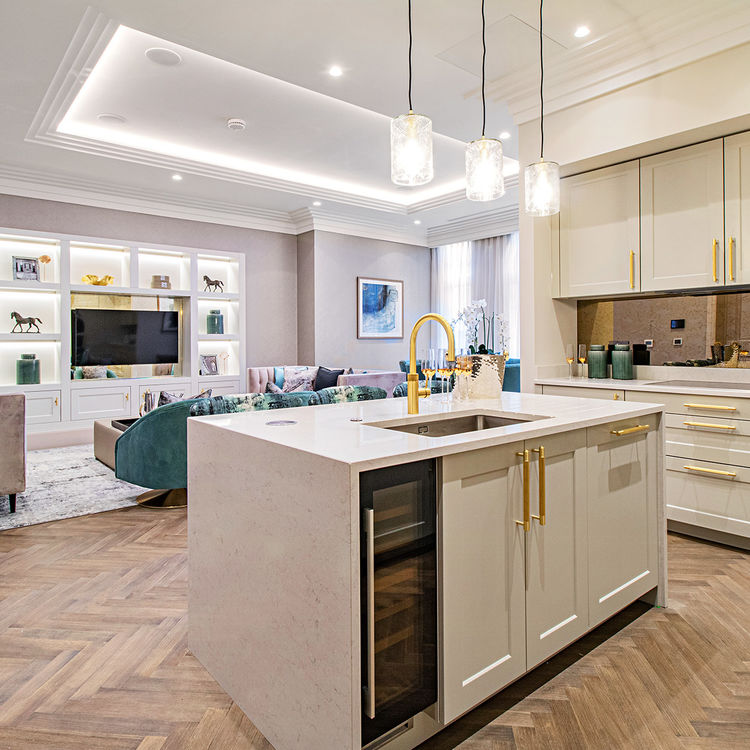 Keeping the house neat and tidy and making the right impression can be key to selling a property

Tip 3 – Pay Attention to Interior Design
Putting effort into the interior design of your house can also go a long way in attracting potential buyers.
When people come round to view the house, they'll want to be able to visualise themselves living in it, which can be helped along by making the place attractive and homely.
By adding inviting colour schemes, stylish furniture and cosy personal touches, you can therefore help to make your place more appealing to potential buyers.
Tip 4 – Keep Your House Clean and Tidy
While the interior design of your home can play an important role in making the house attractive to potential buyers, this doesn't always require a complete overhaul of new and expensive décor.
Your house may already look great from the inside, and simply needs to be kept neat and tidy for viewings. Making sure that you're on top of all the cleaning, to ensure your place is in the best condition, keep all rooms clutter-free and as spacious as possible can help to enhance the appeal of your property.
It can also help to make some more inexpensive additions to certain rooms to help enhance the space, including some vases of flowers here and there, or potted house plants to freshen the place up.
Tip 5 – Be Helpful With Viewings
If you're in the house for potential viewings, it's important to know how to act, and to not be too overbearing when people are looking round the place.
It's best to let viewers wander round the house freely, making them feel comfortable and relaxed in the space. You should also be prepared for any questions they may have about the property, being approachable and friendly to help further put them at ease and create a pleasant environment to be in.
Tip 6 – Pick Your Buyer Wisely
Once all your hard work has paid off and you get some offers on the table, the next step is choosing the best one.
It's best to go with a buyer that's reliable, which you can determine through their current living situation. Safe buyers include ones that have already sold their previous home, and are waiting for their next move while renting somewhere in-between. They can also include those who are first time, chain-free buyers or cash buyers who aren't paying for the house through a mortgage.
By following these top tips, you can help to make the process of selling smoother and more enjoyable, and potentially bring more offers to the table.