10 Things That Can Increase the Value of Your Home – Griggs Homes
10 Things That Can Increase the Value of Your Home
For those looking to take a further step up the property ladder and upgrade their existing home, it's important to know how to maximise its value before going on the market. Investing in home improvements can be a great way to go about this.
From making existing spaces open-plan to creating whole new rooms, there are various different home improvements that can add value to your property. Below is a list with 10 that those looking to maximise the value of their homes may want to consider, ordered from the highest potential value added to the lowest:
1) Transform Your Property Into Flats – 30%
Transforming your house into flats could be a great option to consider when wanting to increase the property's value, having the potential to add up to 30%. This type of conversion project is popular in areas where there is a significantly high demand for flats – for example, in London and other major cities - and something that Griggs has done previously as property developers.
If considering this home improvement, it's firstly vital to do your research and check what the demand for flats in your area is like. If the demand for flats is greater than the demand for houses with your property's description, it may then be worth considering this type of project.
2) Turn Your Cellar Into a Functional Space – 30%
Transforming a property's cellar into a functional space, such as a storage space or living area, can also add a considerable amount to your property's value – potentially by up to 30%, as long as build cost is under the price per square foot of the area.
While converting your cellar may seem like an pretty big home improvement to make, it can actually be one of the least complicated improvements out there, as you won't require planning permission unless in certain circumstances.
3) Add a Kitchen Extension – 15%
Adding certain types of kitchen extensions can also help you to maximise the value of a property, with side-return extensions having the potential to add 15% to the property's value.
Side-return extensions for single-storey properties will typically be considered a permitted development, so long as the home improvement meets certain criteria. In addition to this, such an extension will have to be compliant with building regulations, with work inspected by the relevant authority during its development.
4) Turn Your Garage Into a Functional Space – 15%
If you're not using your garage for its normal purpose – storing your car – it could be good to use this space more productively, turning your garage into a living area. Typically, the work that's involved in turning a garage into a functional living space is considered permitted development, meaning planning permission will not necessarily have to be obtained.
While this is typically the case, it's always vital that you check whether planning permission will be needed for your home improvement plans with the local planning authority.
Converting an unused garage into a nice living space could potentially add up to 15% to your property's value.
5) Add a Bedroom in the Loft – 15%
By adding an extra bedroom to your property, you could potentially add 15% to its value. This is the case particularly when it's in the loft, and offers an en suite along with a spacious room.
When planning for a loft conversion, it's best to have an explore of the different types available to you, with different types varying in the amount of structural work they require.
Again, as with any home improvement you are considering to make to your property, it's important to check whether the type of loft conversion you wish you carry out needs planning permission, or is classed under permitted development.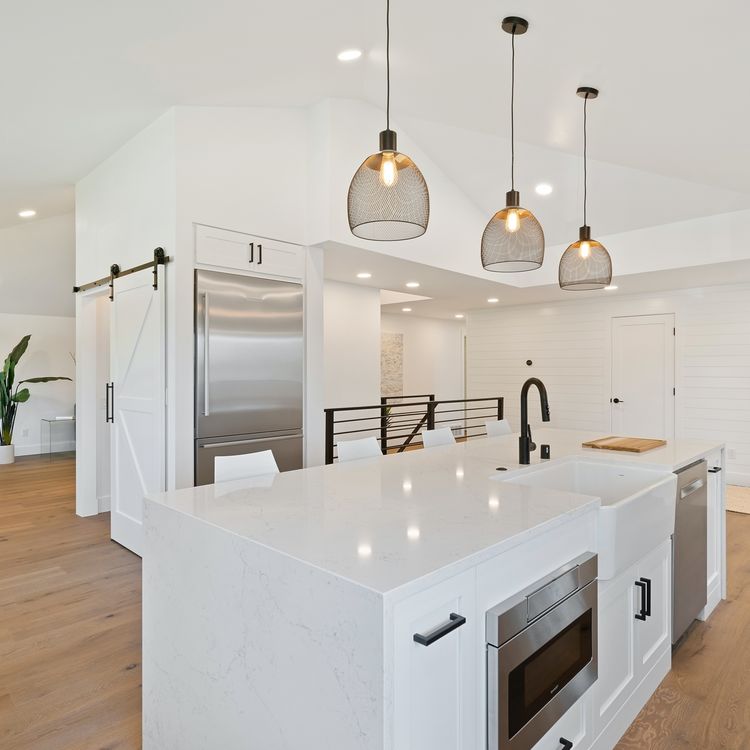 A kitchen extension can add as much as 15% to the overall value of your home. Other effective ways to add value include building a conservatory and sprucing up your garden.
6) Add an Extension – 12%
Increasing your property's square footage can add to the value of your home. The Nationwide Building Society states that a well thought-out extension can add up to 12% to the market value of a property.
In fact, adding a full loft conversion with an extra floor with a room and bathroom could add 20% to the value of your home. A basement could also add as much as 20% and this is something that you might want to add before you move in to avoid all the work involved.
When thinking about adding any type of extension to your property, it's important to consider you have everything in place before going through with the project. For more details on adding an extension to your property, why not read our useful guide "Can I Extend My Home?"
7) Spruce-Up Your Garden (If You Have One) – 10%
Tidying up your garden with a few nifty home improvements can also help to potentially add value to your home. Particularly if your property is situated in an area with limited garden space – e.g. in major cities – it's good to make the most out of any you may have.
By adding a patio or a deck and neatening up the lawn with a quick trim and some potted plants, you could help transform your garden into a key selling point for prospective buyers.
8) Add a Conservatory – 10%
Adding a conservatory is another fantastic home improvement option to consider when wanting to renovate your property, helping you to open up the space your home can offer, and provide an area with plenty of light and lovely views of the garden.
A big aspect of your conservatory will be the glass you use for it. The minimum standard required by building regulations is double glazing, however, there are a number of different options to choose from, including self-cleaning glass and solar control glass.
Provided your plans for a conservatory meet certain criteria, this home improvement will probably be classed under permitted development.
9) Make Your Property More Open-Plan – 5%
If you want to open up your living room and kitchen, but don't want to pay for an extension, another option to consider would be to knock down the wall separating these two rooms.
Before starting the process yourself, it's vital that you check the type of wall you're planning on knocking down. If this is a load bearing wall, you'll have to enlist the help of professionals to get it taken down.
If knocking down walls in your property isn't a feasible option, you could also consider adding an extension, which could open up rooms in your house while also potentially adding value to it. You could also choose an interior designer to help you with this.
10) Add a Bathroom – 5%
Adding a new bathroom can also go to increase the value of a property, however, it's known that this can be an expensive home improvement to make.
However, there are various different ways to avoid overspending – for example, using a framed shower enclosure rather than a frameless model, or choosing an exposed shower as opposed to a concealed one.