Can I Extend My Home? – Griggs Homes
Can I Extend My Home?
A lot of people are looking to extend their home in the current economy. With less travelling and more time at home, people are looking for extra living areas such as home offices, home gyms and communal living areas.
You can extend your home quite easily if it does not require planning permission - but for certain things like extensions, loft conversions or basements, you will typically require planning permission to extend your home.
Home Extensions – Things to Consider
Does it require planning permission?
How much does it cost?
Will it improve the value of my property?
Do I risk over-capitalising? Will I get a return on investment?
Do I need an architect?
Should I extend in a way that does not involve planning permission?
Will I Need Planning Permission for the Extension?
You may need to have planning permission for your extension project, however this is not always the case. Whether or not you'll need planning permission for your home extension will depend on the details of the extension. Extension projects that do not require planning permission are likely to be classed as permitted development.
Does not require planning: Any internal work will typically not require any planning permission, such as breaking through walls or turning a garage into a living area. Conservatories are usually a very good addition, provided that they are less than 10m in depth.

A detached, single storey home is allowed to extend a rear wall by up to 8m. For double storey properties, this extension allowance is reduced to 3m, and 6m if the property is a semi or terraced house.
In addition to this, height restrictions also apply. Extensions in a single storey property cannot be higher than 4m (to the ridge and the eaves). Ridge heights for any extension also cannot be higher than the property itself, and extensions for double storey properties cannot be any closer than 7m to the rear boundary.
Does require planning permission: If you are looking to extend up or outwards of your home, this will usually require planning since it directly impacts the sunlight or space of your neighbours and surrounding (such as green belt land)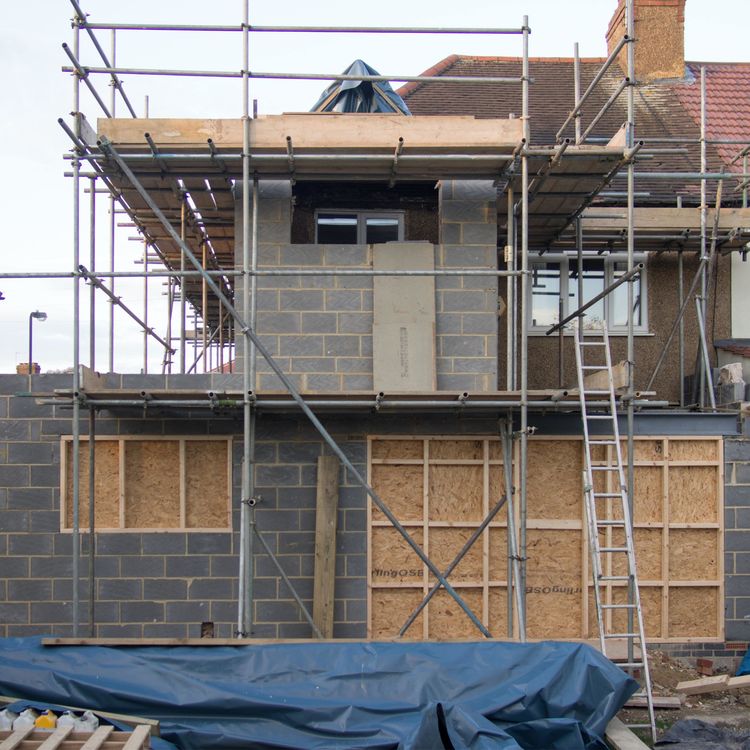 A home extension can add 20% or more to the overall value of your home, however, you will typically need planning permission to expand the size of your home

Will My Home Extension Add to the Property's Value?
Yes, adding a home extension can often increase the overall value of your property, since you are adding more square feet.
A loft conversion is notoriously said to increase the value of the property by 20%, a kitchen extension around 16% to 18% and a conservatory by 10%.
Additional extensions such as home offices or home gyms, can also add around 8% to 10% to the overall value of the property.
One risk is that if you spend too much money on the renovation, this will not help the overall value of the property. Known as 'over capitalising' - you do not want to spend £200,000 on a kitchen extension when the average property value on your road is £500,000. Since you are unlikely going to be able to increase the sale of the house by 40%.
What Other Regulations Will I Need to Abide By?
Although figuring out if you need planning permission is a big part of planning a home extension, it's not the only regulation you'll have to keep an eye out for. Other considerations you'll have to take into account include:
Building Regulations: Regardless of whether your project does or does not require planning permission, renovations to your home will have to follow building regulations. Whoever carries out the work for your project, you'll have to ensure that they can either self-certify their work, or will work with local Building Control Officers in order to certify their work.
Leasehold or Freehold: Depending on whether you own the leasehold or freehold, you'll want to make sure you actually hold the right to go ahead with the extension in the first place. When owning the leasehold, it's therefore important to talk to your freeholder to check whether you're allowed to go through with the project.
Insurance: Before starting the project, it's important that you notify your home and contents insurance provider about your plans. If you fail to do this, your policy may become void.
Final Thoughts
An extension can be a great way to enhance your house, not only benefitting you and your household, but also potentially adding value to the property overall.
However, in order to make sure your project runs smoothly, and to check it can even go ahead at all, it's important to pay attention to the considerations listed throughout this guide, and make sure your home extension project is done correctly.
You can speak to a professional house builder like Griggs Homes for more information.