A Guide to Home Offices – Griggs Homes
A Guide to Home Offices
When the first lockdown measures were implemented in March 2020, workers across the UK were instructed to work from home where possible, and this has carried through in the two subsequent lockdowns.
Remote working is the 'new normal', with big corporations like Google encouraging their workers to work flexibly – both remotely and in office where possible from September 2021 onwards.
With millions now following government advice to work from home where reasonably possible, it has led to growing frustrations with multiple household members struggling to find suitable working and study space. This has led to a surge in demand for home offices.
But what exactly does a home office entail? And how do you build one in the right way? These are questions that are becoming increasingly pressing and common.
Through this guide, GRIGGS Homes, a specialist house builder, will be going through some of the most common questions one may wish to cover when considering building a home office.
Where Should I Set Up My Home Office?
It is important to first identify a space in your home to set up an office in. This area should be spacious, light, and away from any external noise such as from the kitchen or a busy street.
Importantly, the right space also depends on how many household members may wish to make use of the home office. For instance, spaces can be attuned to suit two workers, with desks on either side.
You must as yourself how much space you'll need. This includes how much paperwork you may have, or how many computer screens you may need to fit on a desk. Asking these important questions will allow you to figure out how much space exactly you'll need to store all working supplies and have a suitable area to write and type.
If you are struggling to identity a space like this in your property, it may be worth considering an extension, summer house or converting an existing room to suit the purpose of a home office. Of course, it is always important if you are doing so to follow any rules and regulations.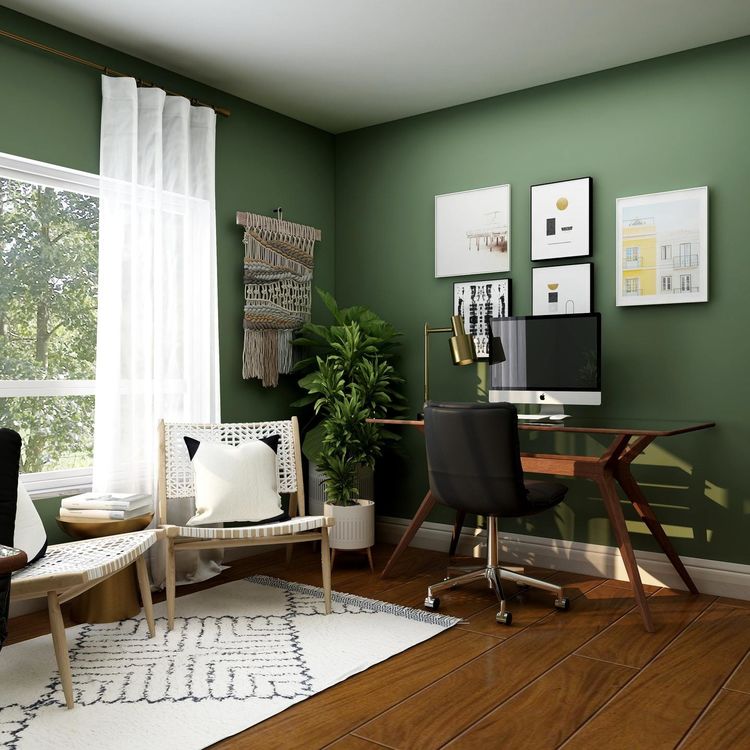 With the covid-19 pandemic, home offices are now here to stay and at Griggs, more and more clients are asking to include them in their homes
Will I Need Planning Permission for a Home Office?
Whether the development will require planning permission is dependent on which space you will choose to use for the home office. For example, if you wish to convert an unused garage into a home office, you might require planning permission as you may need to build windows and heating supplies into the space.
Additionally, if your property is listed, any conversations will most likely require some form of planning permission.
What Building Regulations Would Apply?
A similar process applies to planning permission. Whether you will require building regulation approval is totally dependent on how you intend to create your home office.
This applies especially in the instance on converting a garage into a home office space. The area would need complete renovation and it is likely that you will need to consider the following elements:
Windows
Insulation
Heating
Ventilation
Damp
Electrical work
Flooring
It may at first seem like a lot of work for an office space, but it is looking much more likely that several companies will follow Google's suit, and adopt a flexible working schedule. This means workers will spend more time doing remote working, so a comfortable home working space is really important. It can also add future value to the property.
What Should a Home Office Include?
This question is mostly down to personal preference. It depends on what type of work, and what type of worker you are. For some, they are paper-free, but others might need several shelving units to support their paperwork load.
It is always good to have lots of storage space for office supplies. Especially, it is important to invest in a comfortable desk chair. You will most likely be sitting in this for a few days of the working week all day, so it should be comfortable so avoid any neck or back aches.
Your home office may be able to double up as a place for your pets or even a home gym, saving your money on your home improvements and putting them to good use.
Final Thoughts
The process in which one may go about creating a home office can be very different from someone else's. It all depends on multiple factors, like how much space you have, and what type of work needs to be completed.
Regardless, it is always important to consider and note any regulations that might apply to the project.