How Can I Add a Swimming Pool to My Home? – Griggs Homes
How Can I Add a Swimming Pool to My Home?
With holidays seeming like a distant memory, last year has seen the rise of the 'staycation' with Brits staying closer to home for their summer vacations. Whilst the UK may not be Barbados or the Costa del Sol, you can still create a holiday vibe from the comfort of your home.
Building a swimming pool can make every day feel like a holiday. Whether you opt for an indoor pool or outdoor pool, there are countless benefits to a home swimming pool. These pools are a great lifestyle investment that can have a hugely positive impact on your day-to-day living. GRIGGS Homes have built several swimming pools to date, both indoors and outdoors, as part of our bespoke builds and luxury home developments.
Below we answer all the key questions you need to know about building a swimming pool at home.


Indoor or outdoor home pool?
When weighing up whether you want an indoor or outdoor home pool, one of the key factors will be price. There is no denying that outdoor pools are far cheaper.
Indoor pools require far more equipment and maintenance hence the cost can be as much as £115,000 depending on the size and requirements. They need a ventilation system in order to control humidity and chemical odours. In addition, they will typically require pumps, lighting and water heating systems.
Outdoor pools, on the other hand, can work out to be relatively cheaper, especially if you have an existing space and require little in the way of installation and maintenance needs.
If you are thinking long term, outdoor swimming pools have far less usability than indoor swimming pools as they are entirely weather-dependent. Additionally, they can require more maintenance.


How much does a swimming pool cost to construct?
An outdoor swimming pool can cost around £60,000 to £110,000 to build and install, depending on the size and complexities (Source: Check a Trade) - including whether you choose a pre-built resin, fibre pool, poured or sprayed concrete pool.
What are the steps to building a swimming pool at your home?
Excavation – digging out space for the swimming pool.
Installing a pre-built pool or concrete shell.
Tanking – the process of creating a watertight shell.
Installation of the swimming pool liner or tiles.
Fitting of the filtration system to keep the water clean.
Installation of the heating system, fittings and pipework.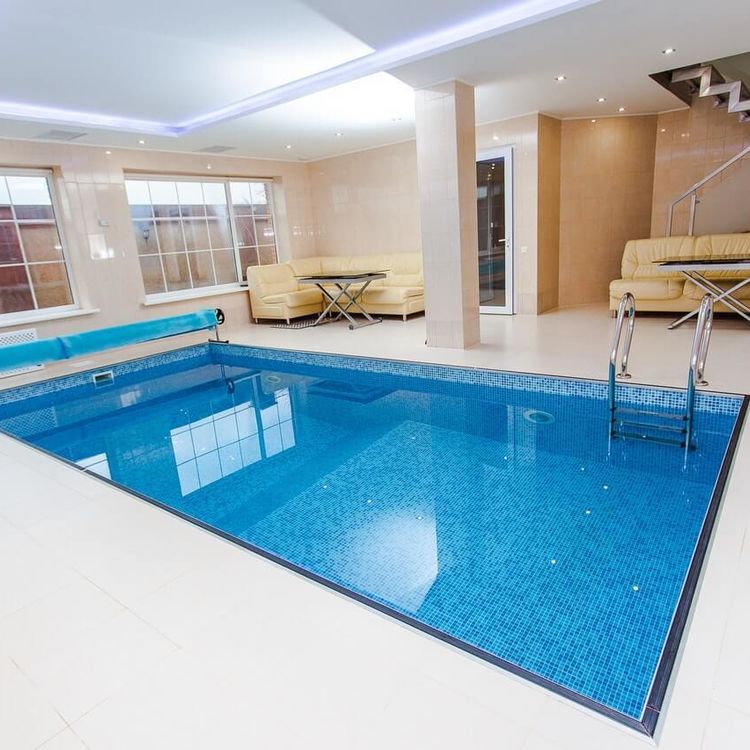 The cost of installing a swimming pool ranges from around £60,000 to £110,000, with outdoor pools typically easier to construct and indoor pools likely to cost up to £175,000 depending the complexities involved
How much value does a swimming pool add to a house in the UK?
Depending on the property, swimming pools can add up to 15% to a property's sale price, especially for premium properties. According to a study from Direct Line's Select Premier Insurance, around 17% of high end estate agents are reporting an increased demand for properties with swimming pools.
Indoor swimming pools can be seen as less problematic when it comes to affecting the value of your home. Although they come with the same maintenance and running costs as an outdoor pool, they will typically get more use and as such may be more of a selling point for potential buyers.
Do you need planning permission for pools in the UK?
Swimming pools in the UK can be built without planning permission as they are covered by Class E coverage for householders. That being said, there are certain factors to bear in mind.
According to national and local requirements, all swimming pools must be built at least 10 feet away from the walls of the house. This is a safety measure to protect the electrical wiring of the house from leaks, splashes and floods.
Fencing can also help ensure increased safety for your pool. Erecting a fence around your pool which is around four to five foot tall can help adhere to health and safety measures.


How much does a home swimming pool cost to run?
The cost of running a home swimming pool in the UK will depend on many factors including the size of the pool, whether it is indoors or outdoors, specialist pool equipment and the usage of the pool.
According to an expert homebuilding site, running costs of a swimming pool amount to an average of around £5 per day in the summer and £10 a day if used during the rest of the year. This is the cost for basic heating and chemicals but does not factor in any additional repairs that may be needed.
Experts from SPATA estimate an average daily energy and chemical cost of £7.50 for running an indoor pool, compared to around £5 daily for an outdoor pool.
Maintenance costs can amount to around £200 annually, which will depend on the services used and your specific needs.