A Guide to Kitchen Trends in 2021 – Griggs Homes
A Guide to Kitchen Trends in 2021
It is no surprise that homeowners are seeking a change. With most workers having been advised to work from home since the first lockdown in March 2020, they are tired with their current and outdated designs – and the kitchen is definitely a communal space that many have a desire to change this year.
Additionally, lockdown has even led to many adopting new cooking and baking interests, with more than a fifth of the UK choosing now to cook every meal from scratch, according to Tesco.
This guide will explore just a few popular kitchen trends we expect to see in 2021. Not forgetting that a good kitchen or extension can increase the value of your home by as much as 15%.
Hot and Cold Water Taps
Hot taps will be heavily sought after this year. Everyone is looking for simple adjustments to make life just that bit easier, and a hot water tap serves exactly that purpose.
Appearance wise, they look just like regular taps, but are but are additionally capable of dispensing hot water instantly. This means no waiting for the kettle or pan to heat up and boil water – and much to every Brit's delight, instant cups of tea.
The installation of hot water taps is essentially the same as the installation of a regular water tap. It just includes the addition of a tan underneath the sink.
This installation process may thus be slightly more expensive, especially with the tap selling at a higher price point that comparable simple taps in appearance. However, it is important to note that hot water taps are certainly more affordable in the long run and serve as a great investment to be made. In the long-run, they are certainly cost-effective, allowing those who use it to boil the exact amount of water they require, as opposed to a whole kettle or saucepan full.
The Quooker brand is a very popular choice in providing these taps, describing the hot tap as "the tap that does it all". 100C temperature water is always readily available and further spaces space on the countertops and in the cupboards. No more pans or kettles cluttering the countertops or kitchen cupboards.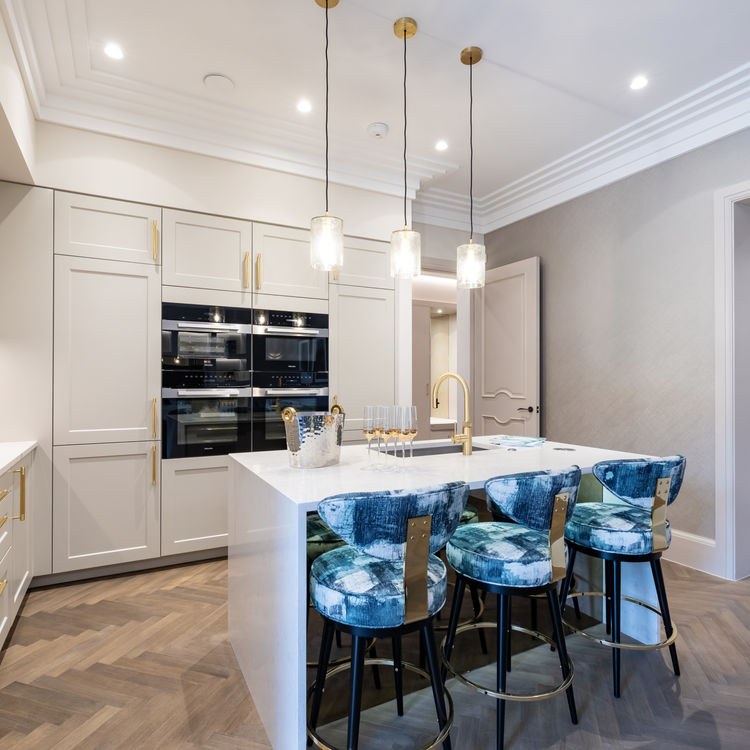 Some of the most popular kitchen trends in 2021 include the hot and cold water tap and the breakfast bar for casual dining
Statement Appliances and Taps
Following on from the Quooker taps, statement taps and appliances will see a surge in demand this year. In particular, gold and brass tone taps, as well as dark matte black has seen a recent growth in demand and popularity.
Long gone will be the simple, silver stainless steel tap. Gold matte taps can now match the door knobs of kitchen cabinets or appliances. Unusually and brightly coloured taps are a great way to compliment the kitchen area without taking up any extra space on the worktop, especially when paired with similar finishes for the cupboard designs and cutlery colour choices to uphold a consistent style finish in the communal space.
Breakfast Bars
Breakfast bars have always been a popular addition for those who have renovated their kitchens. However, with families and households spending more time in the space than ever before, we are likely to see a further growth in demand for the implementation. It is the perfect addition for socialisation as well as food preparation.
In particular, 2021 is likely to see a soar in demand for double island spaces, one side with a breakfast bar accompanied by high stools, and on the other, a space for food preparation or decoration and appliances.
High stools accompanying the breakfast bar space allow household members to socialise together at the same time meals are being prepared, or allow groups to be create a separation from the dining space which may be reserved for other uses like home working during the day.
Dual tone kitchens
Renovating and redesigning kitchen cupboards with two-toned designs is becoming increasingly popular and a fun way for homeowners to customise their kitchen space. In particular, dark colours paired with a lighter cupboard on top actually opens up smaller spaces, giving the kitchen a larger appearance.
For instance, the colour palette of sage green, olive green and hunter green are three colours often pitched together, accompanied by gold appliances and handles. Dual tones can give more depth to a kitchen, making it appear lighter and a bigger size space.